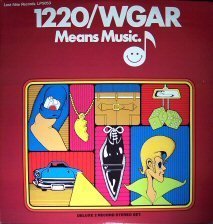 This is a special post in number of blog post 1220.
The first cars I owned had AM radios, and on the mid to late seventies one of the stations I had set on mine was 1220/WGAR. Matter of fact, for awhile I worked across the street from their studios in Broadview Hts., Ohio.
Owned by Nationwide Communications, it was a special spot on the dial for the listeners, and a special place for those who made their living there.
John Lanigan was the morning personality. When he first come to town, he was replacing a legend, Don Imus, and he did so admirably. Lanigan in the Morning was a mixture of music, interviews, and plenty of innuendo. 6:50 every morning brought the Flex Club, a way for callers to say hi to others, usually spouses or boyfriend/girlfriend. And Lanigan would always ask if they had an unusual place. you probably get the picture.
10:00 brought "Emperor" Joe Mayer to the mike. But not so fast. There was the crossover, where Lanigan would give Mayer a daily roasting, to which the emperor would reply with hearty belly laughs and end it by telling Lanigan, "you're a nut!" But the show would go on with Joe being the gracious host, helping you settle into the midday, every once in awhile telling listeners after a song that he voted for it.
From 2 to 6 you had Dave "Fig" Newton. "I have hits up to my pits, cause Music is my middle name." Like other personalities at WGAR, Newton was a young comedian, using his sharp with to connect with his audience. He was well liked by his peers.
Next up was "The Real" Bob James, another true professional and sharp wit. He would have listeners call every night with a segment called Rate a Joke. Some would call up with their lame attempt at humor and others would have some real good ones, such as "Why does beer go through you so fast? It don't need time to change color."
So you have a day full of humor, what else do you need from your radio station? WGAR had a full service news department and ABC news. They were Cleveland's station to hear Paul Harvey.
Many top news reporters came through the studios at Broadcast Park. John O'Day, Ken Robinson, Jack Callaghan, Ken Courtright, and Don Olson, are just a few of the news talents that came through the big 1220.